Averitt Express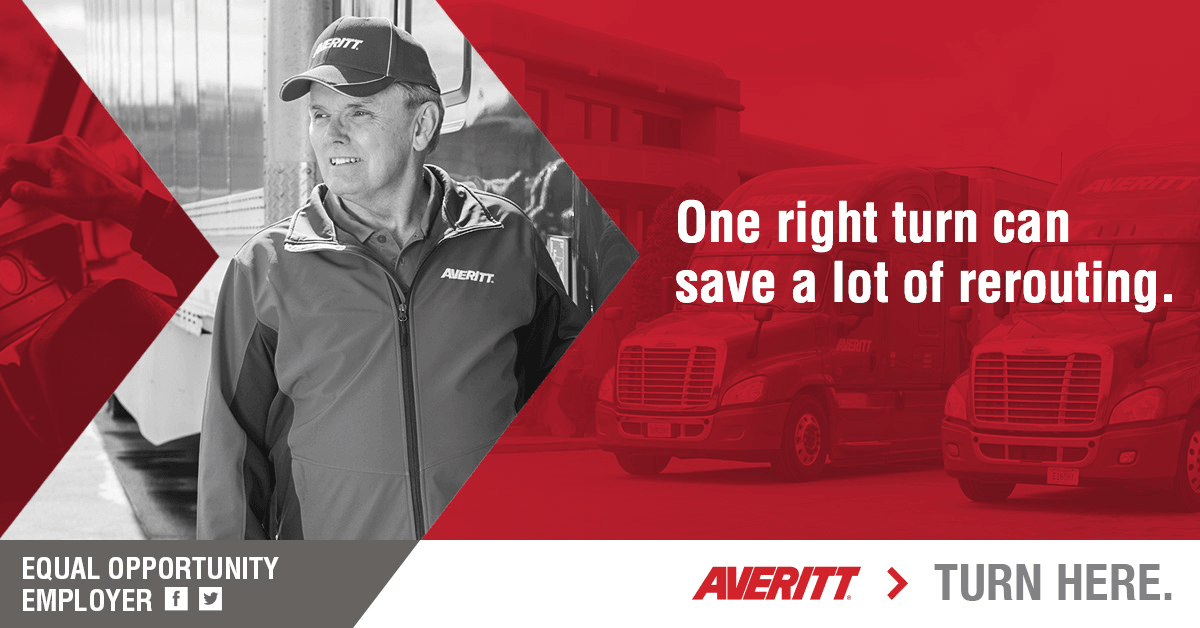 Truck Driving Jobs at Averitt Express
Benefits
Layover Pay
8 paid holidays
Paid time off
Paid weekly via direct deposit
Paid orientation
Cash bonuses for referrals
Life Insurance - Company Paid
Profit sharing & 401(k) plans
Excellent insurance coverage that includes medical, prescription, dental, vision and hearing
Incentives
100+ service centers with shower, laundry and workout facilities for associates
Associate discounts (on vehicles, computers, cell phone service, etc.)
Red Thinkin' Rewards - points program that encourages you to meet specific fuel & service goals and in return earn points towards a selection of over 12,000 gift items.
Company Overview
Averitt Express
855-882-3884
About Averitt:
At Averitt, we promote from within, offering opportunities to our own first. So, once you're on the team, there's no limit to how far you can go. Better pay, better benefits, etc. will be right there with you…Turn Here
Why are more CDL-A truck drivers turning to Averitt?
Uniformed company with quality people and a culture built on structured organization
Opportunities for transfer and promotion from within after completion of 6 months in current position
1,000+ (10%) associates who have been with the Averitt team for 20 or more years!
Leading transportation provider since 1971
Truckload accounts – 100% no-touch freight!
Dedicated accounts – CDL-A truck driver students welcome!
Local accounts – get home daily!
We love our vets! Make your transition to a civilian life a smooth one with GI Bill benefits!
Excellent insurance coverage that includes medical, prescription, dental, vision and hearing!
Training Program
Must have a minimum of 4 - 11 months verifiable experience in the past 3 years or 1 year of verifiable experience in the past 5 years.
You will be paid $800.00 per week while training – training time can range from 1-3 weeks
Turn Here for equipment that works as hard as you do:
Assigned, safe, well-maintained Volvos & Freightliners.
All with APUs and 100% automatic transmissions.
Our equipment has several intelligent safety features to include: collision- avoidance system, lane-departure system, anti-jackknife/ rollover stability system and much more.
Safely park at more than 100 Averitt facilities, many with on-duty security, fuel pumps, showers, exercise rooms
Ready to change? Turn here and apply today!
Averitt Express is an equal opportunity/affirmative action employer. All qualified applicants will receive consideration for employment without regard to sex, gender identity, sexual orientation, race, color, religion, national origin, disability, protected veteran status, age, or any other characteristic protected by law.
Contact Info
Averitt Express
1415 Neal Street
Cookeville, TN 38501
Phone Number
Recruiting : 855-882-3884
Connect with Averitt Express